Accelerated Freefall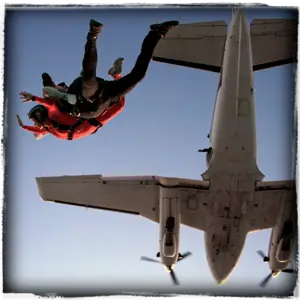 So you want to skydive by yourself?! Skydive Alabama offers all of the training and gear you need to learn to be a certified solo skydiver!
To start you will need to take our one-day ground school and then move on to our 7-level Accelerated Freefall (AFF) Program. Once you finish our AFF program, you can jump by yourself (or with a coach/instructor) and you can work towards earning your A-license. Obtaining your A-license allows you to do formation skydives with other licensed 'fun jumpers'.
Ground School:
Ground school ($99) is held at 8 am every other Saturday, and generally lasts for 6-8 hours. The instructor covers everything you need to know to make your first skydives. Including (but not limited to) emergency procedures, dive flow, hand signals, and learning to land your parachute. We hope to let you get your first one or two jumps made on the same day as long as time and weather allow. If you are paying as you go, you can put down a payment of $318 (Ground school + 1st AFF Jump) and sign up for the Ground school.
Accelerated Freefall (AFF) Program:
The Accelerated Freefall Program is required to be able to skydive by yourself and consists of 7 levels overall.
For your first 3 AFF levels, you have two instructors holding onto you in freefall, but you have your parachute! The Ground school course teaches the mechanics of how to safely land a parachute on your own, but for your first several jumps you will also have radio assistance so the instructors can help guide you to the ground.
On the remaining 4 AFF levels, you have one instructor holding onto/following you in freefall. During these jumps, you are working on developing skills such as flips, rolls, turns, and basic movements in the sky.
Each level of the AFF program is offered on a Pass/Fail basis; if you do not meet the requirements to advance to the next level, then you are required to repeat that dive until you meet the performance objectives. This would mean that you make more than 7 jumps to finish!
So, this sounds awesome – what does this cost?
The first 3 jumps are each $219, and the latter 4 are each $199, so if you pay as you go then Ground school + AFF is $1592 overall.
To save on the overall costs, we offer an AFF bundle that includes the ground school and all 7 levels (including one jump per level as well as gear) for $1299. Paying upfront for this bundle saves you $275, (must call and book yourself, but ask us if you have any questions)!
Once you finish AFF you are on 'Student' status, which means you can jump by yourself or with a coach or instructor to gain the skills required for an A license! Coaches are experienced jumpers who will teach you the basics of group freefall skills such as flying to other jumpers! Once you are done with our AFF course the jump ticket is $29 + gear rental ($30), which is $59 per jump. Coach jumps are $89, which includes gear rental.
In addition to the AFF bundle, we also offer an A license bundle that is $2500 paid upfront. This package includes 5 coach jumps PLUS 2 hop-n-pops PLUS a 2-hour packing class! This theoretically covers all your costs up to your A license as long as you pass each AFF level and continue to fulfill all the application requirements! The A-license bundle package saves you $200!
For AFF jumpers and Students, if you go more than 30 days since your last jump you have to make a recurrency jump. For students who are still in AFF, this means you must pay to retake your last jump, even if you passed it. For those done with AFF but who are still on student status, you will need to make a recurrency jump with an instructor ($114 including gear rental). Once you get your A license, your recurrency dates extend to 60 days, per the United States Parachute Association (USPA) standards.
Ready to sign up? CLICK HERE FOR AVAILABILITIES!!
For more detailed information on Accelerated Freefall Course material, A license requirements, and general information on skydiving, be sure to check out www.USPA.org and check out the FAQ page on our website! Feel free to call our offices for questions or reservations: We are on the phones Monday-Friday, 9:00 A.M. – 5:00 P.M. 256-736-5553.
Click HERE for prices.
Click Here to find availability for our AFF Ground School!